Janice has been editing and performing books since 1984. Each title is scripted into a fifty-minute monologue. Her repertoire incorporates works of humor, romance and current affairs, as well as journalist accounts of people and places. Janice dramatizes books to a variety of audiences, including book clubs, church groups, civic organizations, and entertainment venues.
Janice also provides oral book reviews. Contact Janice to inquire about speaking to your group.
The Ride of Her Life by Elizabeth Letts

The Ride of Her Life (2021) by Elizabeth Letts is the true story of a sixty-three-year-old woman, Annie Wilkins, from Maine, who rode her horse across America in the 1950s. She had no money, no family, and she had just lost her farm and been given a two-year prognosis to live. Annie's dying wish was to see the Pacific Ocean. She set off with a naïve confidence in her abilities, but she had an unfailing belief that Americans would treat a stranger, like herself, with kindness.
Annie had no idea that America was in the midst of rapidly constructing a modern interstate highway system, where cars would whip around her and her horse and dog at terrifying speeds, nor of the influence of television, which was new to Americans in the 1950's. Each would advance her 4,000-mile journey in very unforeseen ways. Along the way, Annie would meet ordinary people (one who proposed marriage) as well as celebrities like Andrew Wyeth, who sketched her horse, Groucho Marx, and Art Linkletter.
Annie's story is inspirational even for today because she shows us all how to keep faith in ourselves, trust strangers and animals, dismiss the downers and naysayers, and to live as if you had just received a mortal diagnosis.
---
Surviving Savannah by Patti Callahan

Author Pat Conroy once said that some of the most powerful words in the English are: Tell me a story! My new book, Surviving Savannah by Patti Callahan is such a story. This is a historical fiction about the steamship Pulaski, called the "Titanic of the South," which sank in the Atlantic in 1838. The cruise from Savannah to Baltimore was billed as reliably safe because it was to be only one night at sea.
The shipwreck was discovered one hundred and eighty years later in 2018 off the coast of N. Carolina. Everly Winthrop, a Savannah history professor, is asked to curate the recovered artifacts from the Pulaski. Her research leads to the uncovering of mysteries and myths surrounding a prominent Savannah family of eleven, including seven children, who were aboard the Pulaski on that fateful night.
---
Our Jerusalem: An American Family in the Holy City, 1881-1949 by Bertha Spafford Vester
Our Jerusalem: An American Family in the Holy City, was written seventy years ago. It is the saga of The American Colony Hotel, founded by Horatio Spafford, the author of the hymn, It Is Well with My Soul after the Spaffords lost their four daughters at sea in 1873. Eventually, the Spaffords would have more children and would lead a group of pilgrims to Palestine, then controlled by Turkey. Their American Colony became a hostel and then a hotel for famous and infamous tourists, spies, diplomats, journalists, and conquerors. Rick's Café in the movie Casablanca is modeled after the bar in the American Colony Hotel. It is still in operation today in the heart of Jerusalem near the Joppa Gate.
Our Jerusalem is an epic and inspiring biography, written by Bertha Spafford Vester, a daughter from the Spafford's second family, who lived in Jerusalem thru WW I and II, and the Israeli War for Independence. Today the American Colony is regularly listed as one of the World's Best Hotels, and is frequented and loved by guests of all faiths from around the world.
---
The Plaza: The Secret Life of America's Most Famous Hotel by Julie Satow
For over one hundred year, the eighteen-story, white marble building at the corner of Fifth Avenue and Fifty-Ninth Street in New York City has radiated wealth and luxury. In so many ways, the Plaza Hotel has defined America's understanding of money, glamour and hospitality. This iconic hotel has been a mirror that has reflected the country's cultural narrative, from era to era. The Plaza has weathered the Jazz Age, the Great Depression, two World Wars, Prohibition, a new millennium, and an influx of billionaire foreigner owners.
Hotels straddle both the public and private spheres of life, making them the perfect barometer to study American culture. For New Yorkers, the Plaza is personal, and they look upon it as if they themselves were the owners, as surely as they own Central Park or the Brooklyn Bridge. For non-New Yorkers, the Plaza is F. Scott Fitzgerald's The Great Gatsby, Neil Simon's comedy, Plaza Suite, or Eloise. For others, the hotel is defined by its owners: Conrad Hilton and his wife Zsa Zsa Gabor, Donald Trump, or the Indian tycoon, who ran the hotel from a maximum-security prison cell 7,000 miles away. Others may remember its famous and infamous guests—Truman Capote, the Beatles, or Marilyn Monroe and her wardrobe malfunction, when her dress' spaghetti strap broke while she was giving a press conference at the hotel.
Today, foreign money and anonymous shell companies have transformed iconic guest rooms into condominiums that shield ill-gotten gains, while still retaining its glamour and inviting visitors to stop for tea each and every day. For 111 year, the Plaza has extolled beauty on the surface and grit behind the scenes. This is a story that memorializes the hotel's contribution to many of the country's greatest characters and moments. Even if you have never been to the Plaza Hotel in New York City, you can be sure that you have some connection to its history and appeal.
---
Finding Dorothy by Elizabeth Letts

FINDING DOROTHY by Elizabeth Letts is a 2019 novel based on the life of Frank Baum, the author of The Wonderful Wizard of Oz, and his wife Maud. For more than a century, the story of Dorothy has inspired adults and children alike, who never guessed how true to life the story was.
In 1938, seventy-seven-year old Maud Baum finagled her way onto the set of MGM studios in order to ensure that the spirit of her late husband's book would remain true in the movie version of Oz, being produced at that time. After all, Maud is the only one left who knows the story's secrets. When Maud meets Judy Garland and hears her rendition of Over the Rainbow, she realizes that protecting Dorothy, both the real Dorothy and the actress that plays her, is the reason she is needed at MGM.
FINDING DOROTHY is two stories, told as one: the making of the film, The Wizard of Oz, and the incredible life story of Maud Gage Baum. Maud was born the daughter of suffragette Matilda Gage. (Elizabeth Stanton and Susan B. Anthony were constant visitors in her childhood home.) Maud was one of the first women to ever attend an Ivy League school, but she dropped out to marry Frank Baum, a dreamer and entrepreneur.
Frank and Maud's early-married life on the plains of the Dakota Territory was the inspiration for Frank's 1900 book, The Wonderful Wizard of Oz, which included their own real-life experiences with scarecrows, tin men, and prairie storms. This historical fiction takes a look backstage at the unique relationship between Judy Garland, a young actress on the cusp of fame, and Maude Baum, the woman behind the curtain—on the movie set at MGM and in the Land of Oz.
---
A Gentleman in Moscow by Amor Towles
The 2016 novel A Gentleman in Moscow is the story of Count Alexander Rostov. In 1922, the Count is deemed an unrepentant aristocrat by the Bolsheviks, and is sentenced to house arrest in the Metropol, a grand hotel across the street from the Kremlin. Rostov, a thirty-two-year-old bachelor, must live in an attic room for decades during the most turbulent years of Russian history. Rostov later comments, "The Russians were the first to figure out how to exile someone in their own country, denying them a new beginning somewhere else."
Political intrigue, espionage, and unexpected personal relationships make this story complex and unpredictable. While Communist party politics swirl around him, in and outside the hotel, Rostov learns to play the system to his own advantage. His first concern is finding a purpose for his life even in his restricted circumstance. At first, he believes that routine, civility, and practical concerns will suffice, but he soon learns otherwise.
Count Rostov makes friends with the hotel staff and many of the international guests. He gets a job as a maître d' in the Metropol's grand restaurant. Then, unexpectedly and improbably, he finds himself the guardian of a young girl abandoned in the hotel. As Rostov and Sophia wait for the return of Sophia's mother, their lives and their futures change forever.
---
Jo Malone: My Story by Jo Malone
Jo Malone is globally recognized for revolutionizing the beauty industry. As one of the most inspirational entrepreneurs of our age, Jo is responsible for creating some of the world's favorite fragrances. Yet, her personal journey to international brand prominence has not been easy. Now, for the first time, Jo tells her remarkable life story.
When asked where her spirit and drive to succeed came from, Jo replies, "I suppose it all started in my childhood." From a very modest beginning in government housing and a struggle with dyslexia to her fight against breast cancer and the buy-out of her brand, Jo has emerged as one of the most likeable and well-respected personalities in British retail today.
This lively memoir explores how Jo's unique talents grew out of an ability to interpret the world through an extraordinary sense of smell. Her honesty, courage and willingness to reveal the personal highs and lows of reinventing herself are an inspiration to us all.
---
My Name is Mahtob by Mahtob Mahmoody
My Name is Mahtob, a daring escape, a life of fear, and the forgiveness that set me free, by Mahtob Mahmoody is the continuing story of a mother and daughter held hostage in Iran. Their dramatic escape and return to the United States in 1986 was told by Mahtob's mother in her 1987 international bestselling book, Not Without My Daughter, and later in the movie by the same title, starring Sally Fields. Now Mahtob tells her own story of struggling to forgive her father even as he pursued her in America, fighting against the disease that threatened her life, and forging a life of her own.
---
I Kiss Your Hands Many Times: Hearts, Souls, and War in Hungary by Marianne Szegedy-Maszak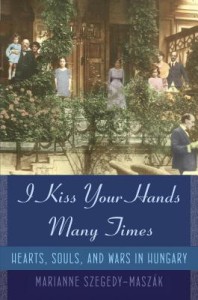 In 2004 after the death of both of her parents, Marianne Szegedy-Maszak went to clear out her parent's home in Washington, D.C. and discovered a new story line for her multigenerational, Hungarian family. Framed around a cache of letter written between 1940 and 1947, memorabilia and souvenirs from pre-war Hungary found in her childhood home, Marianne shares with readers the epic and intimate love story of her parents who overcame immense obstacles to marry in 1945 after Marianne's Gentile father was released from Dachau and her Jewish mother returned from exile in Portugal.
Aladar Szegedy-Maszak was sent to the United States as the first Hungarian ambassador after the war, but within a year, the Soviet regime had taken over Hungary. Aladar resigned his post as ambassador and with his wife, Hanna Kornfeld, a baroness whose family once owned one-fourth of all the wealth in pre-war Hungary, defected and received asylum in the U.S. Marianne's memoir tells the story of hearts, souls and war in Hungary, a world about which she knew very little and could never have imagined
---
The Little Girl who Fought the Great Depression: Shirley Temple and 1930s America by John Kasson

The Little Girl Who Fought the Great Depression: Shirley Temple and 1930s America by John Kasson covers the fifteen years of Shirley Temple's movie career, focusing on the years 1934 to 1940. It was said that Shirley could 'smile like a Roosevelt,' and because of the Great Depression, Shirley and FDR became accidental partners in bringing optimism, consumerism, and child labor reform to Americans.
After Shirley Temple left the film industry, her life was filled with children, charity work, and civil service. She was a part of ten presidential administrations in various capacities. Shirley Temple died at the age of 85 early in 2014, but her film legacy and political achievements live on."
---
Stealing the Mystic Lamb: The True Story of the World's Most Coveted Masterpiece by Noah Charney
Jan van Eyck's Ghent Altarpiece is on any art historian's list of the ten most important paintings ever made. It is also the most frequently stolen artwork of all time. Since its completion in 1432, this twelve-panel oil painting has been looted in three different wars, burned, dismembered, forged, smuggled, censored, hidden, attacked by iconoclasts, hunted by the Nazis and Napoleon, used as a diplomatic tool, ransomed, rescued by Austrian double-agents, and stolen a total of thirteen times. In this fast-paced, real-life thriller, art historian Noah Charney unravels the fascinating stories of each of these thefts. Charney also explores psychological dramas that lurk within the history of art crime—and the ideological, religious, political, and social motivations that have led many men to covet this one masterpiece above all others.
---
Out of Africa by Isak Dinesen

In this book, the author of Seven Gothic Tales gives a true account of her life on her plantation in Kenya. She tells with classic simplicity of the ways of the country and the natives: of the beauty of the Ngong Hills and coffee trees in blossom: of her guests, from the Prince of Wales to Knudsen, the old charcoal burner, who visited her: of primitive festivals: of big game that were her near neighbors–lions, rhinos, elephants, zebras, buffaloes–and of Lulu, the little gazelle who came to live with her, unbelievably ladylike and beautiful.
---
The Best Christmas Pageant Ever by Barbara Robinson

An outrageous family of six children take over the church's Christmas pageant and help everyone discover the real meaning of Christmas in this hilarious first-person account from one of the church kids.
---
Hadassah by Mark Andrew Olsen

Based on the story of Queen Esther in the Old Testament, this Biblical fiction recounts Esther's story in the form of a letter passed down to present day from the decedents of the original recipient.
---
Ruth, A Portrait by Patricia Cornwell

A biography of Mrs. Billy Graham, written from the unique perspective of her former protégée, crime novelist, Patricia Cornwall.
---
Mark and Livy: The Love Story of Mark Twain and the Woman who Almost Tamed Him by Resa Willis
Olivia Langdon Clemens was not only the love of Mark Twain's life and the mother of his children, she was also his editor, muse, critic and trusted advisor. She read his letters and speeches. He relied on her judgment on his writing, and readily admitted that she not only edited his work, but also edited his public persona. Until now, little has been known about Livy's crucial place in Twain's life. In Resa Willis's affecting and fascinating biography, we meet a dignified, optimistic woman who married young, raised three sons and a daughter, endured myriad health problems and money woes and who faithfully traipsed all over the world with Twain – Africa, Europe, Asia-while battling his moodiness and her frailty. Twain adored her.
---